La música: "In dulci jubilo" de Mike Oldfield
Perdón.
Perdón, perdón, perdón, perdón, perdón, perdón, perdón, perdón, perdón, perdón, perdón, perdón, perdón, perdón, perdón, perdón, perdón, perdón, perdón, perdón, perdón, perdón.
Mil perdones, porque estoy a punto de hacer algo que me parece petardo, de poca categoría y ningún estilo cuando lo veo en otros. Algo más propio de las verduleras que andan a gritos en los programas de telebasura que de alguien presuntamente bien educado como yo. Voy a presumir de hijo.
Es que se ha sacado una notaza en Selectividad y estoy eufórico. A decir verdad, creo que lo he disfrutado yo incluso más que él; hoy, en vísperas de disputar un partido de tenis de un torneíllo local, estaba más nervioso que antes de alguno de los exámenes; y hace nada lo vi tramar, con algunos de sus congéneres, la quema de sus apuntes en esta noche de San Juan. Juro que no atesoro proyectos grandilocuentes para él, que ya sé yo cuánta mano tiene el azar en nuestras vidas, pero lo veo contento y saboreando el momento, y no pido más.
Tenía guardada en mis archivos una joyita que viene de lujo para la ocasión. Se trata de una versión instrumental de "In dulci jubilo" que Mike Oldfield grabó en 1975 y con la que llegó esas navidades al número 4 de las listas inglesas. La pieza se remonta nada menos que al siglo catorce y se atribuye al místico alemán Heinrich Seuse, que se la oyó cantar, o eso se dice en su biografía, a unos ángeles que bajaron del cielo y bailaron con él para aliviarle de sus penas terrenales. La melodía se volvió tan popular con el paso de los años que músicos de la relevancia de Buxtehude, Liszt y el mismísimo Bach la aprovecharon en alguna de sus composiciones. En la actualidad se ha consolidado plenamente en el repertorio navideño, hasta el punto de que en una reciente encuesta de la BBC fue elegida como el segundo villancico favorito de los británicos (tras "In the bleak midwinter").
Ya, si yo también me he dado cuenta de que estamos en junio, pero qué más da solsticio arriba que solsticio abajo… Además, es irrelevante lo que digáis porque estoy eufórico. Es que mi hijo se ha sacado una notaza en Selectividad, por si no os lo había dicho.
In dulci jubilo / Mike Oldfield
In dulci jubilo / Mike Oldfield
Más canciones redondas de Mike Oldfield:
Decir Mike Oldfield es decir Tubular bells, un disco que es mucho más que un disco porque todo cuanto le atañe es desmedido.
Desmedido en lo influyente, porque es el tatarabuelo del indie, la new age y no sé cuantas cosas más. Desmedido en lo pecuniario, porque si Richard Branson es hoy uno de los tipos más forrados del mundo es en buena medida gracias a la pasta que ganó con este álbum, el primero que publicó su discográfica Virgin Records. Desmedido en la puesta en escena: una pieza instrumental por cara, sin una mala canción que llevarse a la boca (no consideraremos como tal a los cavernícolas gruñidos de la cara B, incluidos precisamente para chinchar a Branson, que había exigido que al menos un trocito de la obra pudiera editarse como single). Desmedido en lo virtuoso, no solo porque Oldfield toca prácticamente él solo la miríada de instrumentos que se escuchan en el disco, sino porque hay momentos en que lo hace con una destreza impresionante. Desmedido en el más puro sentido de la palabra, porque era un chaval de 19 años y grabó su primera maqueta en un sórdido apartamento que le habían prestado, usando un magnetónofo trucado donde se podía copiar una y otra vez sobre la misma cinta sin que se borrara lo anterior; y Oldfield estaba tan pelado que el frutero de la esquina le tuvo que regalar comida para que pudiera ir tirando. Desmedido, si me apuráis, hasta en lo psiquiátrico, porque la obsesión del músico con su obra magna roza lo patológico; no solo publicó una versión orquestal, es que luego aparecieron Tubular bells II, Tubular bells III, The millennium bell y ya directamente, en 2003, lo regrabó de cabo a rabo para aprovechar las nuevas ventajas de la tecnología; vamos, que ni el Windows de Microsoft.
Y desmedido, sobre todas las cosas, en lo exitoso, 30 millones de copias vendidas y número uno en Gran Bretaña. Vale que William Friedkin le echó una mano usando la célebre introducción de piano en la banda sonora de El exorcista, pero aun así… No me pondré a comparar con las listas de ahora y a soltar el rollo de que cualquier tiempo pasado fue mejor, pero podría.
Una vez inventada la rueda, Oldfield tiró del mismo método de trabajo en los álbumes siguientes, pero los resultados fueron cada vez menos convincentes. De su desplome hacia las pegajosos abismos de "Moonlight shadow" quedó, no obstante, un disco notable al que por lo que sea tengo un especial aprecio: Platinum. La cara A consiste todavía en una única pieza instrumental, también titulada Platinum, pero es mucho más fresca y marchosa, para bien, de lo que nos tenía acostumbrados por entonces. La otra cara, por fin, incluye cuatro cortes independientes, dos de ellos ¡canciones! Una de estas canciones, "Sally", era una tontada dedicada a su novia que aparece tan solo en las primeras copias que se vendieron del disco. Seguramente a instancias de Branson, se reemplazó con muy buen criterio por Into wonderland; escuchando el diabólico trabajo de Oldfield con los teclados uno se plantea si el Maligno, sin nada mejor que hacer tras haber sido expulsado del cuerpo de la pequeña Regan, no echaría unas horas en el estudio de la Virgin.
Una vez abierto el melón de ajedrez y computación la semana pasada, se me ha ocurrido que a lo mejor os apetecería ver cómo se las gastan estos tremendos monstruos informáticos en la vida real. Por ello he elegido para ilustrar la sección la partida considerada por muchos expertos como la más impresionante jamás jugada por una máquina. Como os comenté, hace ya algún tiempo que los jugadores de carne y hueso no tenemos nada que hacer contra estas abominaciones, así que también será electricidad, y no sangre, lo que corra por las venas del perdedor.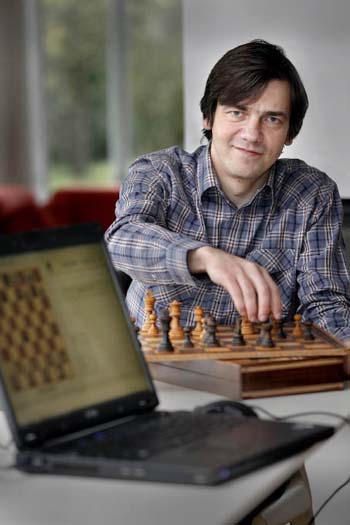 Situémonos. En una esquina del ring, con pantalón blanco, el temible Rykba 4.0, la versión más reciente del programa que había dominado con autoridad los últimos años, llevándose todos los campeonatos mundiales de computadores de ajedrez entre 2007 y 2010 (posteriormente su programador, Vasik Rajlich, fue acusado de plagiar código de otros motores y la ICGA, en medio de una gran polémica, lo desposeyó de todos sus títulos, pero esa es otra historia). Enfrente, con calzón oscuro, Houdini 1.5a, un recién llegado que está dando mucho que hablar, no solo por su impactante nivel de juego sino porque su creador, el informático belga Robert Houdart (en la fotografía de al lado), permite su libre descarga en Internet y reconoce sin tapujos haber usado código de IPPOLIT/RobboLito, Stockfish y Crafty.
La ICGA (International Computer Games Association) solo permite participar en sus competiciones a motores de ajedrez completamente originales y esta contingencia excluye a Houdini de las mismas, de modo que en 2011 se organizó un match informal a 40 partidas entre ambos programas para dilucidar cuál era el más fuerte de los dos. Houdini triunfó convincentemente por 23½ a 16½ (12 partidas ganadas contra 5 perdidas, el resto tablas). Las nuevas versiones de Houdini (estas ya hay que pasar por taquilla para conseguirlas) han incrementado aún más el potencial asesino de la bestia, pero las mejoras son imperceptibles para el ojo humano; un tiburón de seis metros te devora exactamente igual que otro de seis y medio.
La partida de hoy es la que abrió el encuentro. ¿Cómo describir el juego de Houdini aquel día? En vez de incomprensible, una palabra que se emplea a menudo cuando se habla de ajedrez cibernético, yo usaría el calificativo inconcebible, porque a nadie en su sano juicio se le ocurriría sacrificar tres peones para montar un ataque después de haber cambiado damas. Por muy bien que jueguen los ordenadores siempre habrá espacio para el ajedrez entre personas, porque es precisamente en los errores, no solo técnicos sino también psicológicos, donde radica la salsa competitiva de este juego. Pero hay que reconocer que en términos de precisión pura y dura, lo de hoy es ajedrez de otra galaxia.
Rybka 4.0-Houdini 1.5a, TCEC S1 Elite Match (partida 1), 2011